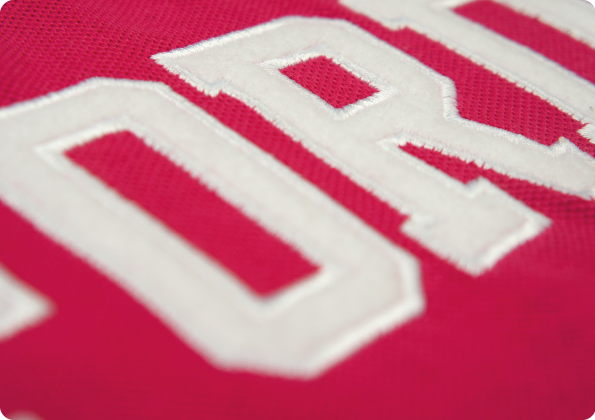 Appliqué Sampling
Order today and receive your Appliqué samples in just 10 days.
Welcome to the world of teeone, where creativity and style intertwine to express your brand's unique story. Our Appliqué Embroidery service is more than a finishing touch; it's a fashion statement, a bold declaration of your brand's unique identity. With us, your clothing transforms into a wearable work of art that makes an impression at every turn. Command a higher retail price and add quality that others can't match. Order today and receive your retail grade Appliqué samples in just 10 days.

Here's what you get when you order online today:

Consultation call

 

with our retail team.
Studio help

 

to ensure artwork is perfect for Appliqué.
Visual

 

for approval prior to sampling.
2 sample patches

 

per design.
Guarantee

 

- we'll resample if you are not 100% happy.
Appliqué Sampling FAQs
Yes all our Appliqué patches are manufactured in-house here in the UK, making it both quick and cost effective.
Of course, that's what we do. Once you've approved your Appliqué on a sample fabric we'll move to production on to the garments you choose from our catalogues, or those supplied by yourself.
As part of the sampling process we run a detailed stitch count which tells us how long the finished design will take to produce, along with how much Appliqué fabric will be need. From this we can give you a price based on the number you need. Unfortunately, until we've sampled we can only provide ball-park figures which will we talk about on the initial consultation call.
From start to finish allow 10 days, but again this does depend a lot on the complexity and quantity ordered.
25 is generally the minimum we can produce in a single run as the Appliqué fabrics are laser cut by the metre.
In the highly unlikely event you are unhappy with your Appliqué sample we will adjust and resample for free.
Build Your Own Free Sample Box
Experience Premium Hand-Picked T-Shirts, Polo Shirts, and Hoodies for FREE.
Discover the essence of style and sustainability with this exclusive offer.
Create your personalised free sample box from our meticulously crafted collection.
Choose from a variety of designs, colours, and styles that reflect your vision. Embrace ethical fashion with organic and sustainable materials.
Claim your free sample box now and embark on a stylish journey with teeone. Don't miss this limited-time opportunity to curate your branding adventure!
There is no catch, they are 100% free, we just ask you to cover the cost of shipping.
Hurry though as we only have a limited number of boxes to give away!
Make a Statement with teeone's Fabulous Appliqué Embroidery Solutions.
teeone's Appliqué Embroidery service is not just about adding an aesthetic element, but about infusing your brand's persona into each piece of clothing. With our combination of skilled craftsmanship, cutting-edge technology, and an unwavering commitment to quality, we create designs that are truly emblematic of your brand's spirit. Let us help you make a bold statement, leaving a lasting impression with every thread and stitch. Elevate your clothing line with teeone, where every piece is not just apparel, but a work of art.


Bold & Striking.
With Appliqué Embroidery, we bring a distinctive touch to your apparel. The technique involves sewing fabric onto another for a 3D effect, making your logos or designs pop and command attention.
Premium Quality.
Our commitment to quality ensures that your appliqué designs are durable, beautiful, and made to last. Each piece is carefully crafted to withstand regular use and washing.
Versatile Application.
From t-shirts to jackets, our Appliqué Embroidery can enhance a variety of clothing items. Whatever your design vision, we have the skills and experience to bring it to life.
Personalised Approach.
At teeone, your brand is our priority. We work closely with you to understand your design requirements, offering advice and expertise to help you make the right impact.
End-to-End Service.
Our team manages the whole process, from digitising your design to the final stitch. With teeone, you can expect perfection in every detail.